We've all seen those appetizing ads for Taco Bell's Mexican Pizza and Crunchwrap, brimming with delicious meat and beans. But what if your meal looked nothing like the picture? A New York man faced just that when his Mexican Pizza seemed to shout, "Where's the beef?"
Is Your Taco Bell Order Not What You Expected?
The Russo Firm is stepping up to take on the cause of Taco Bell customers who feel they've been shorted on their favorite Taco Bell munchies.
This class-action lawsuit is centered around allegations that Taco Bell's Mexican Pizza and Crunchwrap are not living up to the advertisements and instead are much skimpier than they appear in photos posted everywhere in and outside of Taco Bell.
The Class-Action Lawsuit
This disappointment led to Frank Siragusa filing a class-action lawsuit in the U.S. District Court in the Eastern District of New York. He claims that Taco Bell's advertising was "unfair and materially misleading," and that customers were not getting the fillings they thought they were.
What The Russo Firm Is Doing About It
At The Russo Firm, we understand how important it is for advertisements to match reality. And when they don't, we're here to hold businesses accountable.
Siragusa and countless other customers feel they've been misled by Taco Bell's advertising, leading to allegations and this lawsuit. Now, it is going national.
With our extensive experience in cases just like this, we're perfectly poised to investigate this class action lawsuit and help hold one of the biggest food companies in America accountable.
What Can You Expect for The Russo Firm?
Expertise in handling similar cases, like our lawsuits against Burger King, McDonald's, and Wendy's in recent years.
We have a dedicated team focused on consumer rights.
We are demanding that Taco Bell correct its advertising.
Fighting for compensation against millions of misled consumers.
Our attorney Anthony Russo previously represented a Florida Burger King customer in a lawsuit that was very similar to this current case, adding to our vast experience in taking on big fast-food chains.
In the Burger King lawsuit, the complaint centered around burgers that were "less beefy" than advertised, a scenario similar to the "skimpy" fillings Taco Bell's customers are complaining about now.
The Russo Firm settled the Burger King lawsuit for
Why This Matters Now
The Russo Firm believes that little situations like these matter, especially in today's economy. With inflation and high food prices, consumers deserve to get what they pay for.
We're passionate about holding big corporations accountable, ensuring that they don't get away with such practices.
The Evidence: What We've Found
This lawsuit is seeking damages upwards of $5 million, alleging violations of laws against unfair and deceptive trade practices.
Photos show the disparity between Taco Bell's advertising and the actual items.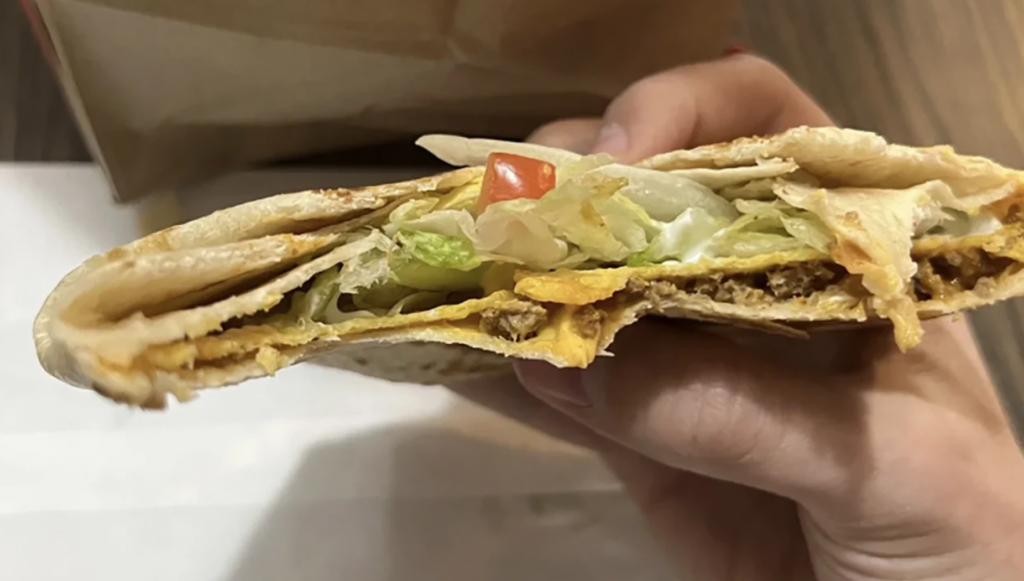 The person who started the lawsuit, Siragusa, estimated that the Mexican Pizza contained about half the advertised filling
This has prompted him and other customers to demand that Taco Bell either provide truthful advertisements or stop selling the products.
Articles and YouTube reviews also document dissatisfaction with Taco Bell's offerings, like an article on Mashed.com titled "Why Reddit Is Calling Out Taco Bell's Skimpy Crunchwraps".
Similarly, a California judge approved a $6.5 million settlement in 2020 for a class-action lawsuit against Chipotle for misleading consumers about non-GMO ingredients.
Fast Food Is No Stranger to Legal Troubles
Taco Bell has faced legal challenges before, like a recent dispute with Taco John's over the phrase "Taco Tuesday."
Burger King was sued and lost $7.8 million in damages to a Broward County man who slipped and fell and seriously injured himself.
Of course, there is the famous McDonald's hot coffee lawsuit which the restaurant chain went to great lengths to cover up and change the story.
And of course, this list could quite literally have thousands of more examples.
Join Us at The Russo Firm
The Russo Firm is actively investigating the Taco Bell class action lawsuit. We believe in standing up for your rights as a consumer and holding big corporations accountable.
We're dedicated to ensuring that companies like Taco Bell deliver what they promise. Don't let them get away with it; let's make sure they meet our expectations. Together, we'll make a difference.